CBD Oil for Dogs. A Quick Guide.
You might be surprised to discover that people are giving CBD to their dogs, but as studies have begun showing that CBD can help dogs with osteoarthritis, and something like 74% of CBD users have pets of their own, this practice is becoming increasingly popular. That being said, the first question on people's minds is usually:
How safe is CBD oil for dogs?
According to the WHO, CBD is safe and well-tolerated by animals. However there are a few things to watch out for. Dog owners should know that CBD is metabolized in the liver and can prevent the uptake of other medications, similar to the way that grapefruit does. If your dog is currently on medications or has liver problems, please consult your veterinarian before deciding to administer CBD to your dog.
CBD is also known for being gentle on the body. In general, there are no side effects. However, mild side effects are possible in situations where extremely large doses have been administered. In the case where dogs are given much larger doses than what is recommended, they may experience side effects such as changes in appetite, nausea, fatigue or sleepiness.
Another thing pet parents should keep a close eye on is product quality. Make sure you purchase from a brand you trust. Check their lab test results to make sure there are no contaminants in the product.
Dogs and cats are also extremely sensitive to THC. A very small amount, like what is typically found in a Full Spectrum CBD Oil, will be harmless. However, larger amounts can be toxic. "At certain dosages, THC can be toxic for dogs," says Dr. Stephanie McGrath, a neurologist at Colorado State University's James L. Voss Veterinary Teaching Hospital. "But CBD comes from the hemp plant, which has THC levels of .3 percent or under. Our findings tell us that such a small amount is absolutely safe for dogs."
Interestingly, in 2016, Dr. McGrath led a study looking at whether CBD for dogs could help with canine epilepsy. Her team found that 89 percent of dogs who were administered CBD during the trial experienced fewer seizures.
Finally, the last thing to check is the carrier oil. Most pet tinctures use MCT oil for their carrier oil. MCT oil is derived from coconut oil and while coconut oil is generally safe for dogs, some canines may be allergic to it. If you're thinking of giving your furry friends an MCT-based tincture, take note if they have food sensitivities.
What kind of product should I buy?
CBD for dogs comes in many forms. You can get flavoured CBD oil tinctures; plain, unflavoured tinctures; as well as all kinds of different treats. Some treats come in the form of a baked biscuit, or a chewy treat, but other products are less processed, consisting of smoked meats and CBD oil. You might also consider an unflavoured Full Spectrum Oil for your dog.
Full-spectrum CBD is probably the most popular CBD product people buy—but usually for themselves and not their pets. Full spectrum is popular because of the benefits conferred by the broad spectrum of beneficial cannabinoids and terpenes naturally produced by hemp plants. These compounds work together to deliver superior benefits in what is termed the "entourage effect." The "entourage effect" is why more people seek Full Spectrum CBD oil out, and it could benefit your pooch as well. To learn more about the difference between the different kinds of CBD read our article Full Spectrum vs Broad Spectrum vs Isolate.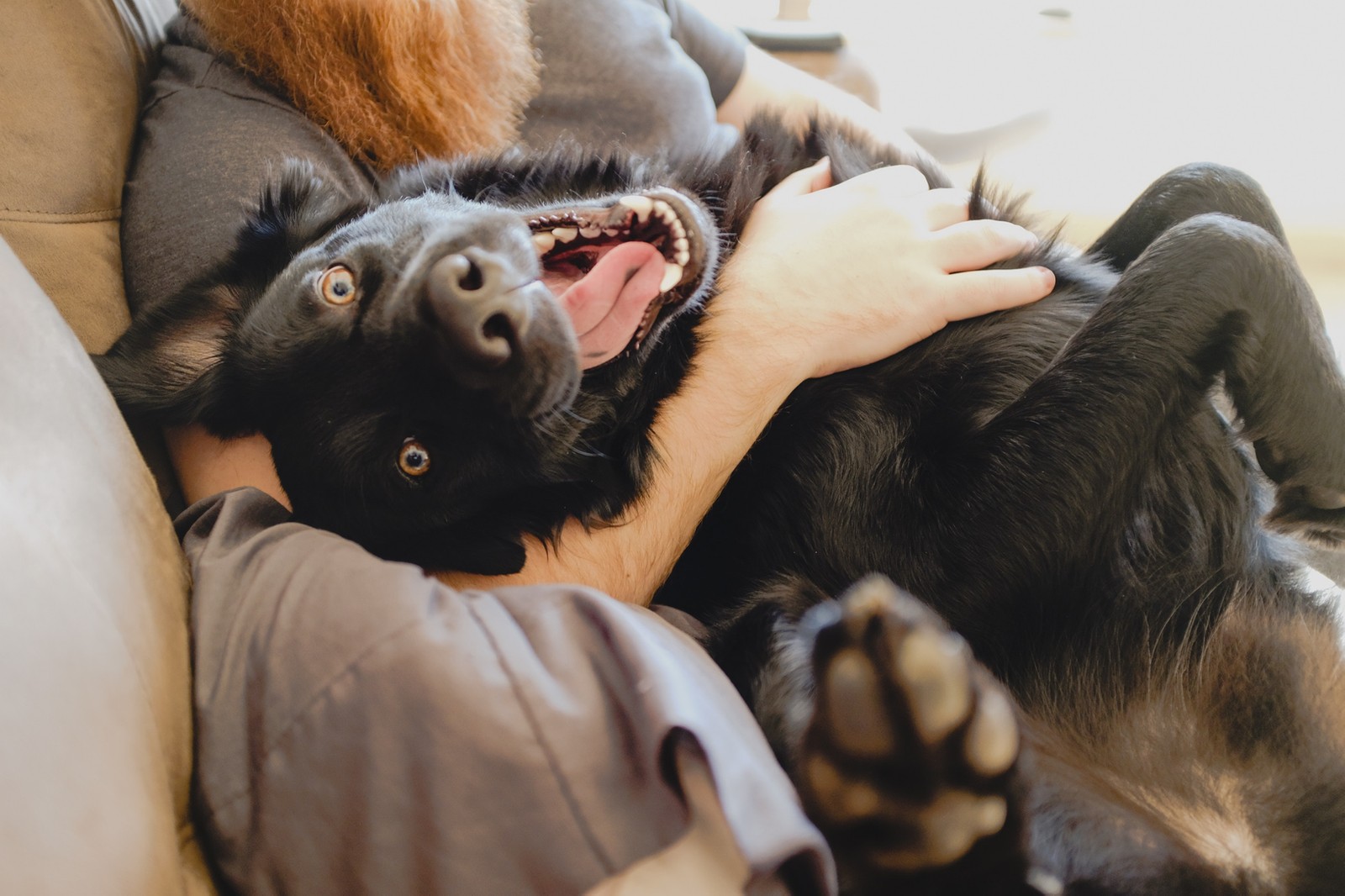 CBD oil for dogs, what about dosage?
Cornell University did a study in 2018. They found that a ratio of 2 mg of CBD per kilogram of a dog's weight, given twice daily, helped increase comfort and made activity easier for dogs with osteoarthritis. When purchasing CBD for your dog, check the packaging to make sure that the amount of CBD per 1mL dropper, or per treat, is clearly indicated. To learn more about CBD dosage for dogs, take a look at our article CBD Oil For Dogs: The Complete Guide.
Although more research needs to be done to prove CBD's efficacy for dogs with anxiety or arthritis, there is a lot of anecdotal evidence coming from pet owners who have tried CBD for their pets and reported positive results in the form of customer reviews and success stories. With dozens of studies now underway, we'll soon have better information about CBD's effects on dogs and the conditions that afflict them.