Premium CBD cream and topical products from Canada's best brands
Looking for a safe, reliable CBD cream, Canada? How about CBD lotions, pain balms, nano-CBD rollers, bath bombs and beauty products! We've got all that and more at CBD Oil Direct! The skin is our largest organ, and it is also the organ with the most CBD receptors. Applying CBD topically deploys CBD to a specific target, it does not travel through the body as CBD does when taken as oil drops, edibles or by vaping. Our customers report using our topical products for a broad variety of conditions and enjoying positive results! What to learn a bit more about CBD creams and topicals first? Try the following article:
What goes into a CBD topical?
A CBD topical can contain a great many things. Like CBD oil, it can be separated into two basic components, the carrier cream, and the CBD.
The carrier cream can be infused with essential oils and fragrances to improve the products aroma and offer aromatherapy benefits, or other benefits; and it can contain any number of natural oils and fats as well as herbal extracts and other ingredients from natural medicine to bolster benefits for skin health, pain relief, inflammation and more.
The CBD component can also come in a few forms. Most CBD cream and topical products use CBD isolate, just like CBD Gummies Canada, but topicals can also be created using a full spectrum CBD distillate or broad spectrum distillate, in which case they will contain a broader spectrum of cannabinoids and companion compounds than CBD isolate which has been refined to be 99.9% pure CBD.
Additional reading: Learn more about the difference between the different kinds of CBD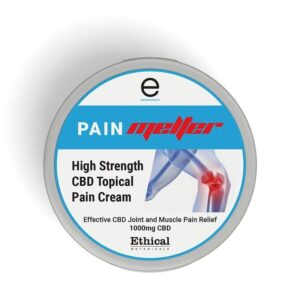 How do I find a safe, reliable CBD cream?
CBD is safe and reliable and well-tolerated by humans. It is non-toxic and non-addictive. To be sure the CBD product you are using is safe, read the ingredient list and look for any ingredients you may be allergic to. This is especially important if your skin is very sensitive. Try to buy products made from natural ingredients and avoid chemical preservatives, fragrances etc.
To be sure your product is safe, ask for 3rd party lab tests that verify that products are free from contaminants like pesticides, heavy metals and other impurities, as well as show that there is CBD in the product.
If you have never used a CBD product before, we advise you consult your medical professional first. This is especially important if you are on any prescription medications as CBD can interfere with the uptake and metabolization of some medications in a fashion similar to grapefruits. If your medication has a grapefruit warning, then we advise against using CBD.
Do CBD creams work for pain and other conditions?
Although there's a lot of anecdotal evidence out there in the form of testimonials from people who have tried products, the scientific evidence proving that topical CBD products are effective for health conditions is still scant. It's still early days in cannabis medicine science. Although there are hundreds of studies currently underway, it'll be some time before we are able to understand CBD and use CBD with the precision that medical science demands.
However, if you read the testimonials out there, there's a strong case to made that most people enjoy positive results and find CBD increases their quality of life to some degree or another. This includes people using CBD topicals to help manage symptoms of all kinds of skin conditions as well as for muscle and joint pain, women's health issues, mobility issues and much more. Consumer should do their due diligence and check product reviews, Google reviews and other sources to learn more about what people have been experiencing.
This information does not constitute medical advice and it should not be relied upon as such. Consult with your doctor before modifying your regular medical regime. Our websites content is provided as a service; all content is solely for informational purpose only and is intended to facilitate communication between you and your healthcare provider. We do not represent in any manner whatsoever that the content of our website contains the opinions of a healthcare professional