What's not to love about breakfast smoothies? They're packed with nutrients, taste great, and are less taxing on the body to digest than a typical meal—and the extra energy goes to you! Smoothies are a super-healthy way to start the day!
But your typical breakfast smoothie can be even better… Just add CBD's homeostasis-promoting, anti-inflammatory, and anti-oxidant qualities and you have a natural therapeutic powerhouse in a cup!
By adding premium Canadian CBD oil to your smoothies, you can calculate your dose more precisely, as most brands sell bottles with measured droppers for more accurate dosing. It's also possible to use CBD isolate powder in lieu of CBD oil, as isolate powder blends into smoothies readily. CBD isolate can have a bitter flavour, and is highly concentrated, so be careful not to use too much! Use a scale to make sure you are adding the dose that works best for you.
Here, then, a CBD smoothie recipe (times three!) to start your day off right!
Superfood Berry Smoothie
This one packs a solid plant-based protein punch thanks to a combination of hemp seeds, Greek yogurt and avocado. Plenty of healthy fats and antioxidants in this recipe too! Berries are known for their anti-oxidant might and help skin look younger. Anti-oxidants slow the degradation of cells, giving your body more time to replenish itself with new ones. The more healthy you are within, the more healthy you look without!
Ingredients
1 cup Greek yogurt (vanilla or plain)
1 small avocado
2 tablespoons hemp seeds
½ cup almond milk
½ cup frozen blueberries
½ cup frozen raspberries
½ cup frozen strawberries
1 frozen banana
1ml dropper-full CBD oil
1 -2 teaspoons maple syrup or honey
Directions
Throw your banana, yogurt, avocado, berries and almond milk to blender. Blend until smooth. Sweeten it up with a little maple syrup or honey. Add your CBD oil and, for added crunch, hemp seeds and/or walnuts. Blend for an additional 10 to 15 seconds. Serve and enjoy!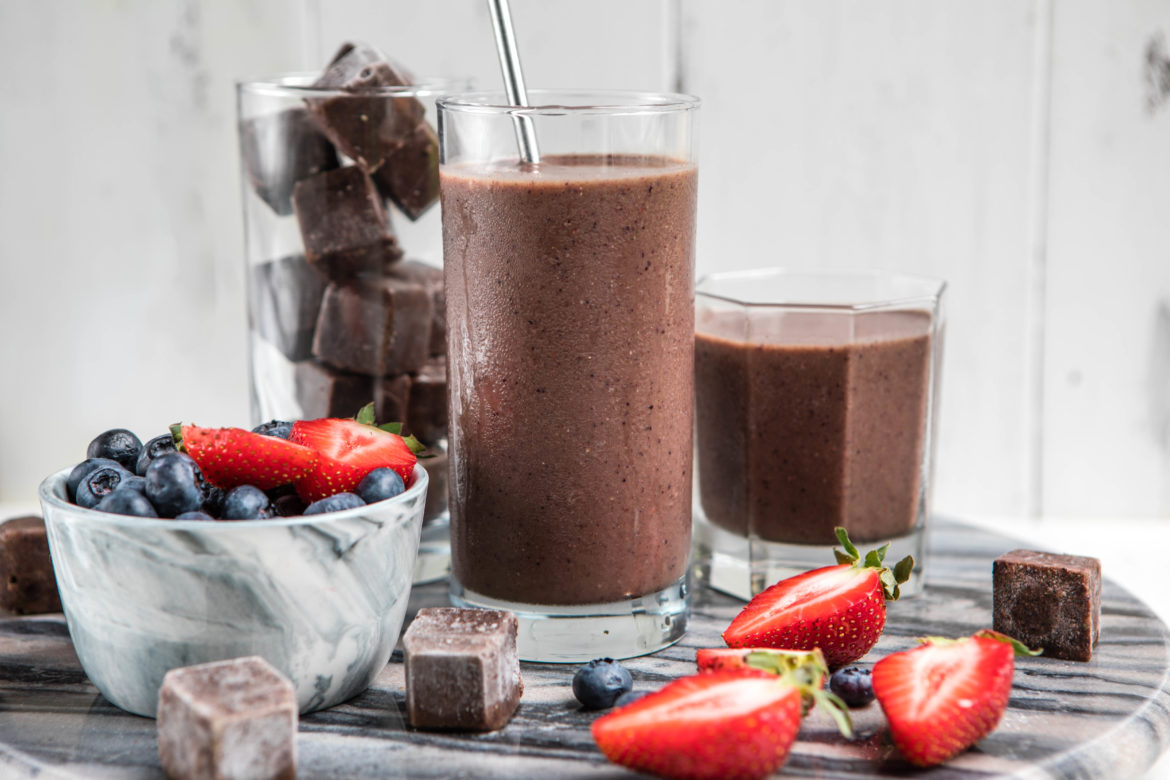 Super Green Antioxidant Smoothie
This green smoothie is also jam-packed with anti-oxidants, but the addition of kale, cacao, banana and spinach means this smoothie helps lower cholesterol and blood pressure, plus aids the immune system and helps regulate your metabolism.
Ingredients
1 cup kale
1 cup spinach
½ cup full-fat coconut milk
¼ cup almond milk
1 dropper-full CBD oil
2-3 ice cubes (optional)
½ ripe banana
2 tablespoons cacao
Small handful of almonds
Small handful of cashews
Directions
Blend your spinach, kale, cashews, coconut milk, banana, almonds, and almond milk, plus optional ice cubes until smooth. Add cacao and CBD oil, blend for 10-15 more seconds. Bottoms up!
Tropical CBD Superfood Smoothie
Feeling some nostalgia for the tropics? This CBD smoothie recipe offers tastes of paradise, plus boat-loads of vitamins and carotenoids. These vital anti-oxidants increase the absorption of nutrients into the bloodstream. Additionally, many tropical fruits possess powerful antimicrobial, anti-diabetic and anti-inflammatory properties.
Ingredients
2 cups kale or spinach
½ cup fresh or frozen papaya
¼ cup Greek yogurt (vanilla or plain)
¼ cup frozen pineapple
½ frozen banana
¼ cup frozen mango
¼ cup coconut milk
1-2 tablespoons honey or maple syrup
1 dropper-full CBD oil
Directions
Blend fruit, greens, yogurt and coconut mild until smooth. Add CBD oil, and any sweeteners or crunch to blender. Blend additional 10-15 seconds. Voila!
That's it! You've got the recipes, now get crackin'! Time to start the day with a superfood-powered boost of health!
Discussed in this article: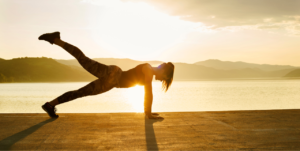 CBD and exercise are two topics that have gained significant attention in recent years. CBD, short for cannabidiol, is a natural compound derived
read more
Read More »